THE OPEN PRIZE for video painting
The Open Prize 2011: a competition dedicated to the Video Painting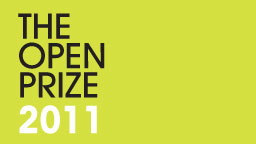 The Private View took place on Friday 28th October when The Open Prize for Video Painting 2011 was awarded to SIDSEL CHRISTENSEN.
From the initial applicants, nine artists (including one partnership) were short-listed by Open Gallery. The artists featured in this year's Open Prize are as follows: David Brazier & Kelda Free, Sara Bjarland, Sidsel Christensen, Susie David, Tania Dolvers, Mark Maxwell, Roz Mortimer and Erin Newell.
The work of these artists will form a prominent exhibition at Shoreditch Town Hall from 29th October - 3rd November 2011.
A panel of judges including Open Gallery curator Hilary Lawson, artist-filmmaker Stuart Croft, curator, writer and Frieze contributing editor Tom Morton and SITE Gallery Director Laura Sillars will select the overall winner.
Competition
Video paintings are filmed in a single long take with a stationary camera. They contain no edits or subsequent manipulation, thus suppressing the narrative styles common to our everyday encounters with moving image. There is no dialogue, no sound. The possible styles, themes and subjects explored by artists within these parameters are vast. The Open Prize's intention is to uncover new, unique and exciting works through this platform by artists who have been drawn to the medium from a wide range of artistic fields and backgrounds.
Brief
1. Shoot with a tripod and fixed frame
2. The shot should be long – at least 3 minutes
3. Submit the work as it was shot, unedited and without any manipulation or audio.
The guestlist is now closed. If you would like to be added to the Open Gallery mailing list please contact gallery@opengallery.co.uk